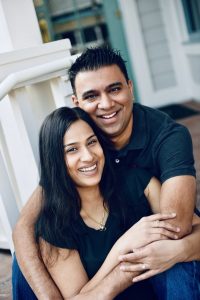 We are a professional husband and wife team that make wedding and celebration cakes in Orlando, Florida. She creates the cakes; he does the marketing and heavy lifting (literally). For a small home-based business, many don't realize that we craft massive and gorgeous wedding cakes that typically weigh over 50 pounds!
With over 5 years of experience in the industry and more cakes than we can count, we do what we do for the privilege and honor of being a part of a new beginning. There is something uniquely sobering about adding that final feather to your cap – your wedding cake!
Our cakes are not just gorgeous, but also taste phenomenal. Check out our testimonials!
We believe that every client deserves the best, and here is what we offer – our small business strives to make sure that you have a personalized experience from the beginning. We only take on a limited number of orders each week, and each wedding cake is delivered and set up personally by me, the baker. We do not bake your cake more than 48 hours before the event, and our cakes are never frozen. So whether you are looking for that dream vision you have had since you were three, a Pinterest board of everything you love, or a simple idea that feels right but you can't explain – we can make it happen!
NOW LET'S TALK CAKE!